Knowing about the properties of sewing threads is the first step in choosing the right thread. However while stitching there are many variants in the choice of stitch, seam and machine type which can be used..
Stitch Type
The elementary basis of sewing is the stitch and a series of recurring stitches of one configuration are defined as a stitch type. Six different classes of stitch type have been defined by British & American standards organisations and more recently, using similar numbering by ISO standard number 4915 and BS 3870 part-I 1991. The four stitch types widely used for garment sewing are as below.
CLASS 300 LOCK STITCHES
Also known as Double lock Stitch, these stitches are formed by a needle thread or threads, introduced from one side of the material, interlacing with an under thread supplied from a bobbin on the other side. The simplest is the Type 301, which is a two thread lock stitch.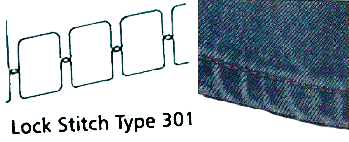 CLASS 600 COVERING CHAINSTITCHES
The stitch types in this class utilise between two and four needle threads, generally one looper thread and one or two cover threads. The cover thread(S) lie on the top surface, held down by the needle threads and the looper and the looper thread(s) interloop with all the needle threads under the fabric.